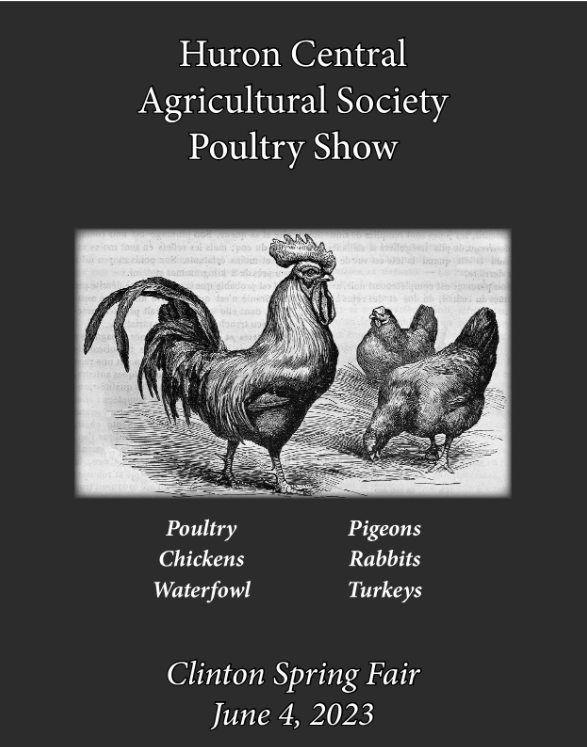 Download Poultry Booklet
Poultry Show
Huron Central Agricultural Society POULTRY SHOW
Sunday, June 4, 2023
Clinton Community Park
(Under the grandstand)
129 Beech Street, Clinton
Contact: Tom: 519-447-0365 or Dave: 519-357-4996
Email: [email protected]
www.clintonspringfair.com
Prizes for 1 st $7.00, 2 nd $5.00 and 3 rd Place $4.00
Entry forms & payment may be sent to
Huron Central Agricultural Society, Box 1561 Clinton, Ontario N0M 1L0
RULES AND REGULATIONS
1. Judging will begin at 9:30 a.m.
2. Entry fee will be $2.00 per entry for ALL entries.
3. Entries must be post marked by Sunday May 26, 2023. Make entries
payable to Huron Central Agriculture Society.
4. A $5.00 fee will be charged for all Exhibitors that have not shown since
2019.
5. All entry fees must accompany entry forms.
6. In filling out the entry form, please use A for male and B for female along
with Class number and please print clearly. In all sections where AC, AOC,
AV or AOV is specified, please name the variety or breed and variety in
AOV classes.
7. Exhibitors may show as many entries in any Class as they wish.
8. The new revised Standard of Perfection shall be the guide of the Judge.
The Judge's decision is final.
9. Any bird(s) showing signs of sickness will be removed from the
showroom immediately. This will be strictly enforced.
10. All reasonable precautions will be taken to protect property, however the
Huron Central Agricultural Society will not be held responsible for any
losses.
LARGE FOWL
American
100. Plymouth Rock, Barred 105. Rhode Island Red
101. Plymouth Rock, White 106. New Hampshire
102. Plymouth Rock, AOC 107. Jersey Giant, AC
103. Wyandotte, White 108. Chantecler, AC
104. Wyandotte, AOC 109. AOV American (named)
Asiatic
110. Brahma, AC 112. Langshan, AC
111. Cochin, AC
English
113. Australorp 116. Sussex, AC
114. Orpington, Buff 117. Dorking, AC
115. Orpington, AOC 118. AOV English (named)
Mediterranean
119. Leghorn, White 122. Minorca, AC
120. Leghorn, Brown 123. Anconas
121. Leghorn, AOC 124. AOV Mediterranean (named)
Continental
125. Hamburg, AC 127. Polish, AC
126. Marans, AC 128. AOV Continental (named)
Any Other Standard Breed
129. Ameraucana, AC 131. AOV AOSB (named)
130. Guinea Fowl, AC
BANTAMS
Games
200. OE, Black 204. OE, Brown Red
201. OE, Black Red 205. OE, AOC
202. OE, Blue 206. Modern, AC
203. OE, Silver Duckwing
SCCL
207. Plymouth Rock, Barred 217. Leghorn, SC AOC
208. Plymouth Rock, White 218. Rhode Island Red
209. Plymouth Rock, AOC 219. Dutch, Light Brown
210. Japanese, White 220. Dutch, Cream Light Brown
211. Japanese, Black 221. Dutch, Blue, AC
212. Japanese, Black Tailed Buff 222. Dutch, AOC Solid
213. Japanese, Black Tailed White 223. Dutch, AOC Parti
214. Japanese, AOC 224. Serama, AOC
215. Leghorn, SC White 225. AOV SCCL (named)
216. Leghorn, SC Brown
RCCL
226. Wyandotte, White 231. Leghorn, RC AC
227. Wyandotte, Black 232. Seabright, AC
228. Wyandotte, Partridge 233. Rosecomb, AC
229. Wyandotte, Silver Laced 234. Hamburg, AC
230. Wyandotte, AOC 235. AOV RCCL (named)
AOCCL
236. Cornish, AC 238. Polish, AC
237. Chantecler, AC 239. AOV AOCCL (named)
FEATHER LEG
240. Cochin, Black 248. Silkie, Black
241. Cochin, White 249. Silkie, White
242. Cochin, Buff 250. Silkie, Blue
243. Cochin, AOC 251. Silkie, AOC
244. Brahma, Buff 252. Belgian D'Uccle, AC
245. Brahma, Dark 253. Booted, AV
246. Brahma, Light 254. AOV Feather Leg (named)
247. Brahma, AOC
WATERFOWL
GEESE
300. Embden 303. China, AC
301. Toulouse, AC 304. Pomeranian, AC
302. African 305. AOV (named)
DUCKS
400. Rouen 407. Black East Indie
401. Pekin 408. Call, Gray
402. Muscovy, AC 409. Call, White
403. Cayuga 410. Call, Snowy
404. Buff 411. Call, AOC
405. Indian Runner, AC 412. AOV (named)
406. Indian Runner, White
TURKEYS
500. Bronze 501. AOV (named)
502. Royal Palm 503. Black Spanish
Page 4
PIGEONS
600. Racing Homers, AOC 606. Modena Gazzi, AC
601. Show Homer, AOC 607. Tipplers, AC
602. Fantail, AOC 608. Helmets
603. Show Rollers, AOC 609. Flying Rollers, AOC
604. German Owls, AOC 610. Chinese Owls, AOC
605. Tumblers, AOC 611. AOV (named)
RABBITS
700. AOV (small) 701. AOV (large & medium)
Buck Buck
Doe Doe
Specials:
Grand Champion Large Fowl – Rosette
Reserve Grand Champion Large Fowl – Rosette
Grand Champion Bantam – Rosette
Reserve Grand Champion Bantam – Rosette
Grand Champion Goose – Rosette
Reserve Grand Champion Goose – Rosette
Grand Champion Duck – Rosette
Reserve Grand Champion Duck – Rosette
Grand Champion Turkey – Rosette
Reserve Grand Champion Turkey – Rosette
Grand Champion Pigeon – Rosette
Reserve Grand Champion – Rosette
Grand Champion Large Fowl: Trophy donated by William and Mary McLean
Grand Champion Bantam: Trophy in memory of Orville Shewfelt
Grand Champion Bird of Show: Trophy in memory of Cliff and Laura Pepper
Grand Champion Waterfowl: Trophy donated by Don Beirnes
Grand Champion Pigeon: Trophy donated in memory of Chanie Savile
Grand Champion Turkey: Trophy donated by Jim and Janet Cameron
2023 JUNIOR SHOW
Open to Exhibitors 16 years and under. $2.00 entry fee for all entries. All Open
Class rules apply.
700. Large Fowl, Solid Colour AV 710. Duck, Call AOC
701. Large Fowl, Part Colour AV 711. Duck, AOV
702. Bantam, Game AV 712. Geese, AV
703. Bantam, Single Comb Clean Leg AV 713. Pigeon, Rollers AC
704. Bantam, Wyandotte, AC 714. Pigeon, Homers AC
705. Bantam, Rose Comb Clean Leg AV 715. Pigeon, Chinese Owls AC
706. Bantam, Any Other Comb Clean Leg AV 716. Pigeon, AOV
707. Bantam, Brahma, AC 717. Rabbits, AV
708. Bantam, Feather Leg AV 718. Guinea Pigs AV
709. Duck, Call White
Junior Specials:
Champion Large Fowl – Rosette
Reserve Champion Large Fowl – Rosette
Champion Bantam – Rosette
Reserve Champion Bantam – Rosette
Champion Waterfowl – Rosette
Reserve Champion Waterfowl – Rosette
Champion Pigeon – Rosette
Reserve Champion Pigeon – Rosette
Champion Junior of Show – Rosette
Reserve Champion Junior of Show – Rosette